Ignite innovation, drive efficiency, and position your business for success in the fast-paced digital age
With Appian's intuitive design tools and pre-built components, you can innovate with speed and precision. Benefit from real-time collaboration, reduce development cycles and watch your ideas transform into reality faster than ever before.
Appian's low-code platform allows you to customize applications to match your unique needs without drowning in complexity. It empowers developers to create personalized features, ensuring applications perfectly align with business objectives.
Why Choose Appian Platform?
Speed and Agility
Appian's low-code platform empowers you to bring your ideas to life at unprecedented speed. By leveraging pre-built components and intuitive design tools, you can accelerate app development and process automation, driving rapid innovation.
Seamless Integration
Integration is a breeze with Appian. Our platform seamlessly connects with your existing systems and services, enabling data flow and communication across your entire enterprise. Say goodbye to data silos and hello to streamlined operations.
Leader in BPM
Appian's innovative low-code platform has redefined Business Process Management (BPM). By combining visual development tools with pre-built components, Appian empowers both developers and business users to create sophisticated solutions quickly.
Xebia is an Elite Solution Appian Partner, we provide a complete range of professional services for your Appian needs. All services are custom designed as per your requirements and best practices of the Appian platform. We continuously evolve our services based on our learnings from 500+ successful implementations over the last 8+ years.
Everest Group Peak Matrix Assessment 2023
Xebia Is Recognized as the Leader in Providing Appian Services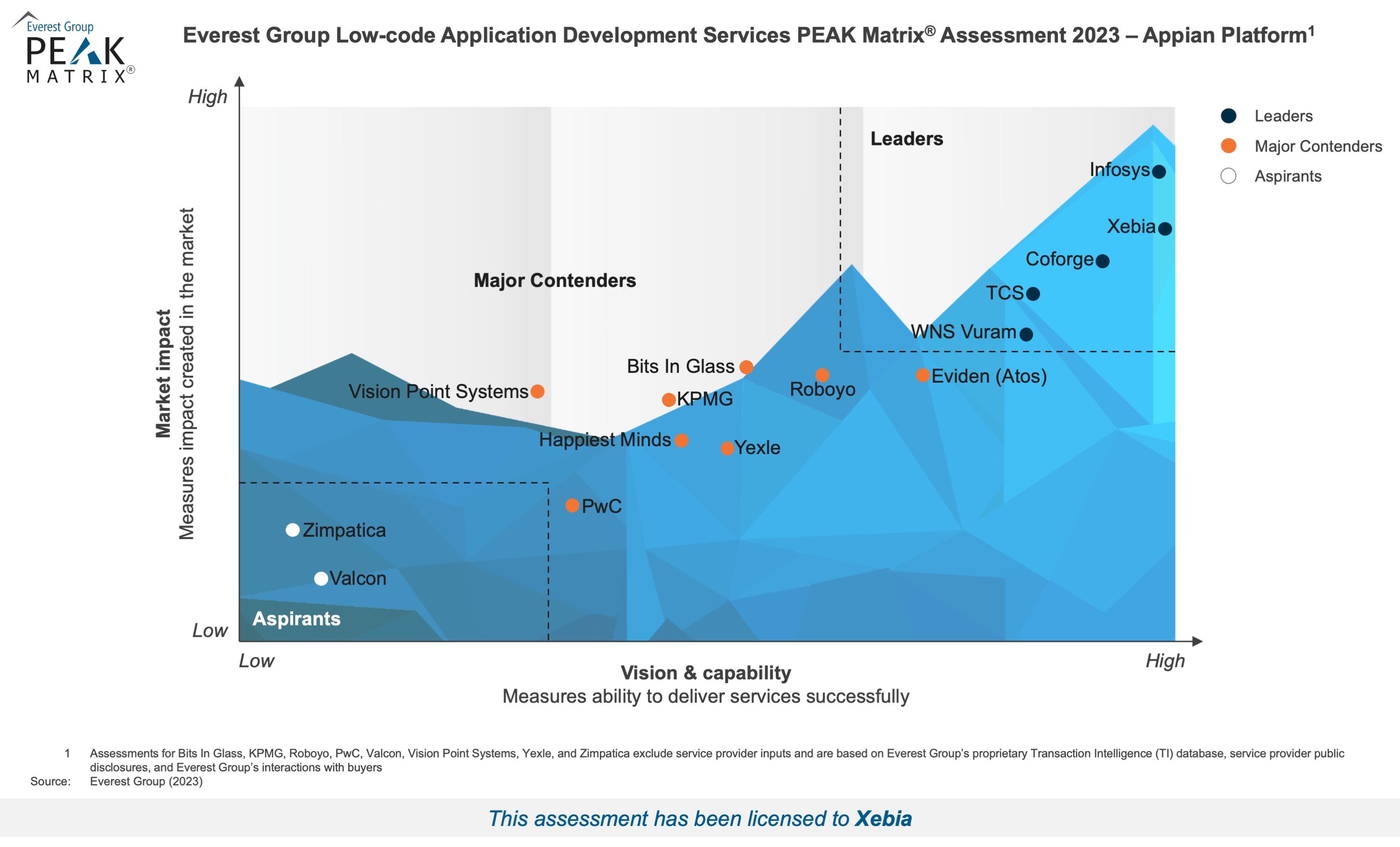 Everest Group positions Xebia as the leader in market impact and vision and capability in providing Appian services.
Plug and Play Solutions
We specialize in a unique and successful accelerator-driven approach, cutting the time to deliver Appian applications starting day one and ensuring higher ROI.
Trusted by leading enterprises